Battery Fill Systems- PRO-FILL, Qwik-Fill, 8D

6V-8V 12V PRO-FILL Shown Below

VIDEO-

Qwik-Fill Installation


VIDEO-

PRO-FILL Installation


VIDEO

-

PRO-FILL Operation With Hand Pump


VIDEO-

PRO-FILL Operation With Regulated Hose Supply

Duffy Electric Boats
Mulitple Off Grid
Golf Carts
RV Applicaton
Marine



Gem, Coco, Fairplay, Tomberline Star, Drive Electric






Deere, Bad Boy, Polaris

Electric On Road Vehicles
Utility Vehicles
6VOLT PRO-FILL Battery Watering Systems-

Free Shipping on orders over $50.00!

6 Volt Pro-Fill Universal Solar Off Grid, RV, Marine, and Golf Cart applicatons!



"I think it's (PRO-FILL) the best invention since the garbage disposal
and garage door opener!"- Customer Will Eastes Suprize AZ

Customer Comments; Save Your Garage Floor From Battery Acid

Introducing "PRO-FILL" the Flow-Rite 6 volt battery watering system for boats, golf carts and utility vehicles, a new accessory that makes the difficult task of watering volt deep cycle batteries elementary. It consists of automatic shut-off valves, one mounted in each battery cell, interconnected with tubing. The val ves replace the standard vent caps. A quick coupler allows the tubing to be connected to a water supply. Water flows into each each cell to the properllevel and pressure build up tells the operator when all the cells have been topped. The entire process takes less than 5 minutes.

Easy to Install- A Flow-Rite Battery Watering System can be installed on a vehicle or boat in about ten minutes. Simply replace the vent caps with our valve manifold, connect the manifolds with tubing segments by simply pushing the tubing onto barb connectors, cap the unused barb ports and attach the quick coupler. That's all there is to it!

Easy to Use
The operator simply connects the water supply quick coupler into the mating battery mounted system. Squeeze the ball and flow begins instantly. When pressure is felt in the ball assembly the battery is full. Do not attempt to overfill at this point.
Valve Length Technical Specifications
Valve Asm- How It Works
Pro-Fill Features- Video
Qwik-Fill Installation- PDF
12V Qwik-Fill Shown Below

Qwik-Fill Battery Watering Systems- 12 Volt- Free Shipping on orders over $75.00



12

Volt system for all group size 24 and 27 batteries. Also will fit most 29 through 31 lead acid batteries.

CONVENIENCE-

Hard to reach batteries are as simple to fill as batteries on a work bench Simple hand pump operation. Use with any distilled water container No need to remove vent covers Several batteries can be connected (three max) and filled at the same time. You can fill from any point above, at, or below battery water level and up to 20 feet away. Quik disconnect feature allows supply to be attached in a "SNAP".

Safety-

Remote watering eleminates hazard of conventional filling No need to open vent covers No risk of acid splashes or dangerous fumes Flame arrestors prevent external sparks or flame from igniting flammable cell gases. Prevents acid spill even when if battery is tilted or leans at high angles Proper electrolyte levels prevents dangerous acid bubble out during charging.

Performance

- Automatic shut-off prevents over or under watering Provides electrolyte level accuracy within 1/8". Proper electrolyte level improves battery life. Proper electrolyte level improves battery performance. Elimination of acid bubble out on charge to prevent loss of battery acid and performance.

4D, 6D, 8D Aqua-Pro Shown Below

How Does Aqua Pro Work?


Valve Seal

Valve Lense

Float Spindle

Float

Aqua Pro is manufactured in Germany by Rover and Rover. This particular valve is available for most batteries. JWP sell only the Aqua Pro for the standard 4D, 6D, and 8D Energizer and Sam's Club Energizer batteries. This is the only battery water kit valve assemble for this battery.




This valve is designed specifically for the .75" diameter cell opening in these batteries or is available

for the older style .75" threaded cell openings wiit a special "O" Ring seal installed on the diameter of the cell body. Consult JWP for this specific application.


Back to Home Page



Back to Battery Application Char

t

Jan Watercraft Products
1334 Greenleaf Lane
Grand Haven,MI 49417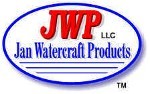 Battery Water Fill Systems Selector