13354 Greenleaf Lane Grand Haven, Michigan 49417 616.822.7587
12 Volt Battery Systems
12 Volt Battery Water Kits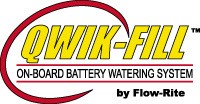 12V Qwik-Fill kits by Flow-Rite Controls with work with most group 24-31 deep cycle batteries.
The standard cell spacing and cell hole diameter for these batteries is 1 5/8" from the center of
one cell to the center of the adjacent cell in groups of three x .75" dia.
The height of the valve
assembly (

Yellow Area

) is 1.25 " above the battery top surface.
See below.
For Deka EV31 and GEM 12V batteries with small circular caps see our Aqua-PRO solution
Convience-
Hard to reach batteries are as simple to fill as batteries on a work bench
Simple Hand Pump Operation
Use with any distilled water container
No need to remove vent covers
Up to three batteries can be filled from the same fill point
Quck disconnect features allows supply to be attached in a SNAP!
Safety-
Remote watering eliminates hazars of conventional filling
No need to open remove and replace vent caps
No risk of acid splashes or dangerous fumes
Flame Arrested- prevents external spark or flame from igniting flammable cell gasses
Proper electrolyte level provents dangerous acid bubble out during charging
Performance
Automatic shut-off prevents over ar under filling
Provides electolyte level accuracy withing 1/8"
Proper electrolyte level improves battery life
No more bubble boil over keep electrolyte acid/water mixture consistant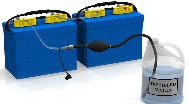 NEW PUMP for Qwik-FILL-
Effective December 1, 2008 all Qwik-Fill kits will have a new larger capacity connector between the hand pump and the battery fill connector. If you are ordering a new system please order

"Handy Pump RV2020"

. This part number has the new larger connector on kits A and B (black 3/4" diameter) as shown below to match the new large connector on the handy pump.

If you are ordering a "Service Part,

"JWPQDF3 kit C"

, then you will receive a pump with the old style connector that matches the old style connector on kit A and B (grey 1/2" diameter) as shown below on the battery side.


See our parts and accessory area for individual repair connectors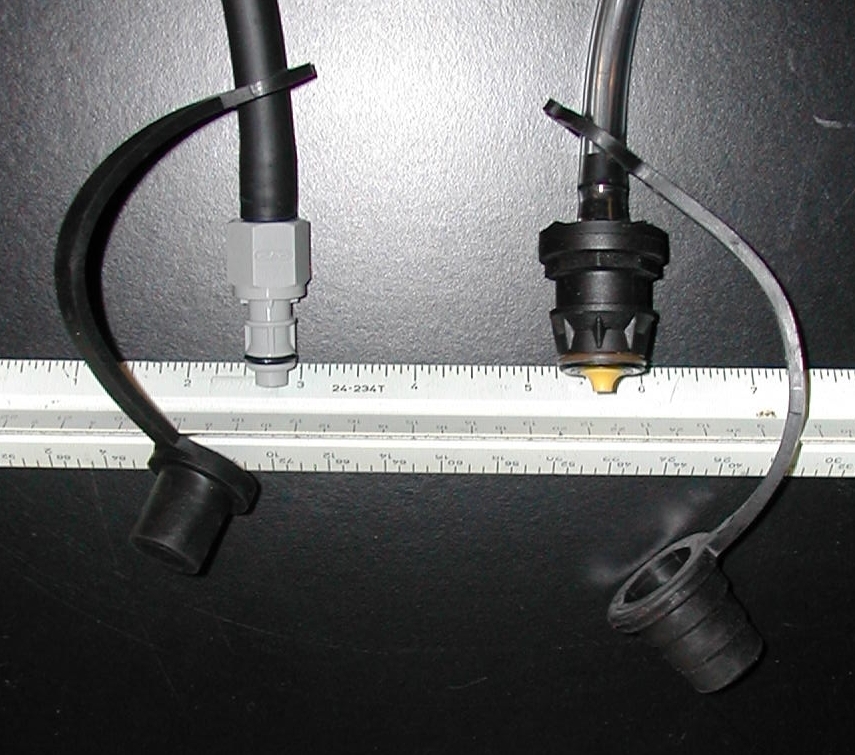 Shipping

- Qwik Fill "Kit A" is shipped

free!


"Kit B, C, D, and E" if ordered separately are considered accessories and require minumum shipping charges. See Order and Shipping Policy for additional information.
Order and Shipping Policy


12 Volt system for all group size 24 and 27 batteries Also will fit most 29 through 31 lead acid batteries.


Qwik-Fill Installation- PDF
Jan Watercraft Products, Since 2001
Thank you for visiting our site. If you have any questions go to our "CONTACT US" page and send us a e-mail or call!