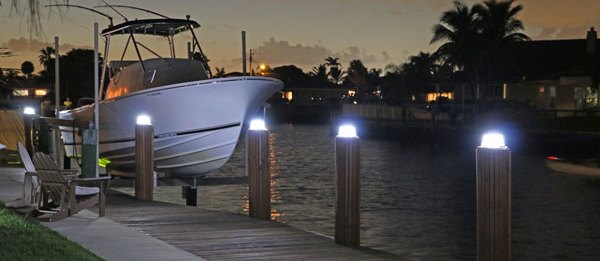 Solar LED Piling Light- 8" diameter with 7 brightness settings,
three colors (white, blue, amber)
Base Color- Black or White - $269.95 each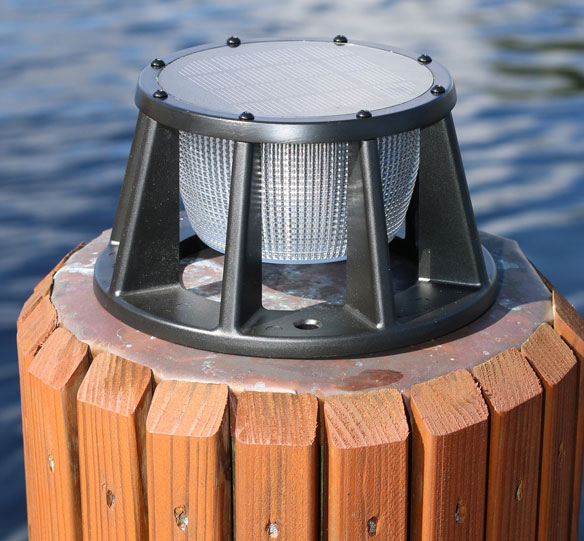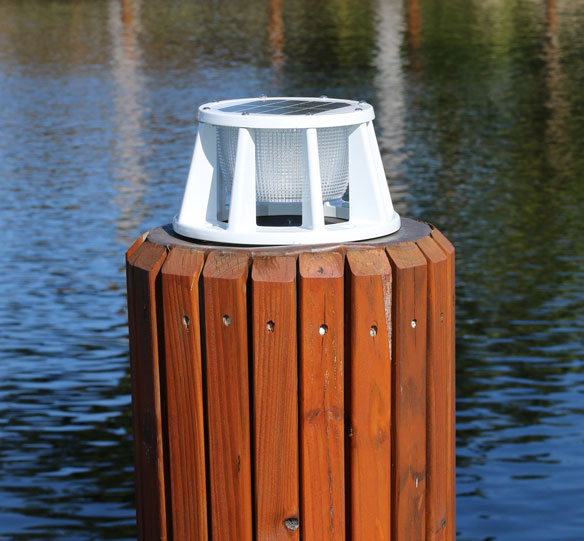 Solar Piling Light -
NEW Color Changeable!
The 8" solar piling light is the most advanced, robust, and aesthetically appealing solar piling light on the market. The fun doesn't stop here! This newly updated solar piling light is equipped with Lake Lite's innovative patented magnet switch technology allowing users to easily adjust between 7- brightness settings and three colors! That's right! A simple swipe of the magnet quickly changes color or brightness on the fly!
Throwing a party this weekend? Quickly change from white to blue light to set the mood! Want to cast a line off the dock without being noticed? Dim them down! Want to relax on the dock and sip and ice cold beverage? Switch to a tranquil amber glow!
The 8" Solar Piling Light is equipped with 24-Super bright high-efficiency LEDs (8-White, 8-Blue, and 8-Amber) facing in a downward position to eliminate blinding eye glare and provide more ambient light. Hold a magnet for 5 seconds over the solar panel and the solar piling light will change between the illuminating colors. Swipe the magnet quickly over the solar panel to adjust between 7 brightness levels or "OFF" on any of the colors. Constructed of die cast aluminum with a powder coat finish, this light is very durable. Also, choose from White or Black finishes to suit your aesthetic dock requirements.
The Solar Piling Light has an advanced microprocessor control circuit which monitors every aspect of the light and has protective features to prevent overcharging, over discharging, output control, and constant brightness technology. Equipped with the industries latest LiFePo4 battery technology, the Solar Piling Light will run for years on the same battery and is easily replaceable.
Solar Powered LED Piling Lights are the most practical and cost effective solution lighting your dock pilings. Universal mounting flange makes it easy to mount anywhere in minutes. Help protect nighttime boaters from hazardous unlit obstacles. Five light levels..
Key Advantages:
"Not a Coast Guard approved navigation light. Not intended fo navigational beacons or commercial waterways"