This versatile, adjustable model fits small watercraft up to 1200 lbs. — from sailboats to Jon boats to small V-hull and flat-hull fishing boats. Length is 18 feet. Rail width adjusts from 24" to 40". Includes 16 polyurethane "donut" style rollers, which mount anywhere along the rails. Also available are complete 9 foot add-on sections. The standard 1700-lb. winch with 25' strap is upgradeable to a 1500 or 2500-lb. self-braking winch with 25' or 50' cables. The easy-to-assemble kit is complete with ground anchoring system.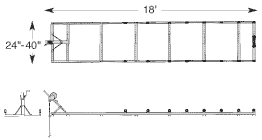 Roll-N-Go Pricing for the model 1200
Your Cost- $1759.99 with FREE SHIPPING!
Description- 18' long, 1700 lb., winch with 25' strap
Accessories-
Model 1200- 9' Extension- $799.99

Basic Leg Kit- $109.99

Wide Support Kit- Add $218.99to Basic Leg Kit

Float Kit- $977.99( kit includes 2 beams, 2 floats, and hardware. Each float has 380 lbs of buoyancy)

Winch Upgrade- $119.99
Shipping charges apply to accessories. Please request shipping cost before ordering via our "CONTACT US" page.
Manual- Assembly Instructions and Limited Warranty
Options and Specifications- All Models
SPECIFICATIONS

MAX. WEIGHT CAPACITY
1,200 lbs.
WEIGHT
130 lbs.
OVERALL LENGTH
17' 10"
OVERALL WIDTH
Adjustable 24"-40"
RAIL WIDTH
Adjustable 24"-40"
ROLLER TYPE
"Donut" shaped Polyurethane
NUMBER OF ROLLERS
16
ROLLER BEARING
Delrin™ spanner and bushing
TILTING ROLLER AXLE
N/A
CONSTRUCTION
Aluminum
HARDWARE
Stainless Steel
WINCH
"Dead lift" Rating
Gear Ratio
Strap Length
Hook Type
Zinc Plated
1,700 lbs.
5:1
25 feet
Standard Boat Hook
ANCHORING
Screw-in Ground Anchor with Hardware
MIN. REQUIRED ANCHORING
Screw-in or Fasten to Wall or Footing
WARRANTY
5 Years**
OPTIONS
ADD-ON SECTIONS
8' 11"
NUMBER OF ROLLERS
12
WINCH UPGRADE AVAILABLE
1,500lb. Autobrake w/ 25' or 50' cable
CABLE UPGRADE
50' ***
SUPPORT LEG KIT
Yes
WIDE SUPPORT KIT
Yes
FLOAT KIT
Yes
**2-Year warranty for salt water applications
***Available with upgraded winch only
**2-Year warranty for salt water applications