13354 Greenleaf Lane Grand Haven, Michigan 49417 616.822.7587
Lake Lite- Solar Boat Lift Charging Kits


Boat Lift Solar Charging Panel and Mounting Arm Kits


Now you can purchase just the right kit to keep your battery operated lift fully charged year around. No need to remove your battery and hook up to a electric charger. Install a Lake Lite solar charging kit for year around convenience. These kits include all necessary parts for a complete installation. Install it and forget it.

Oops, don't forget to add water to your batteries.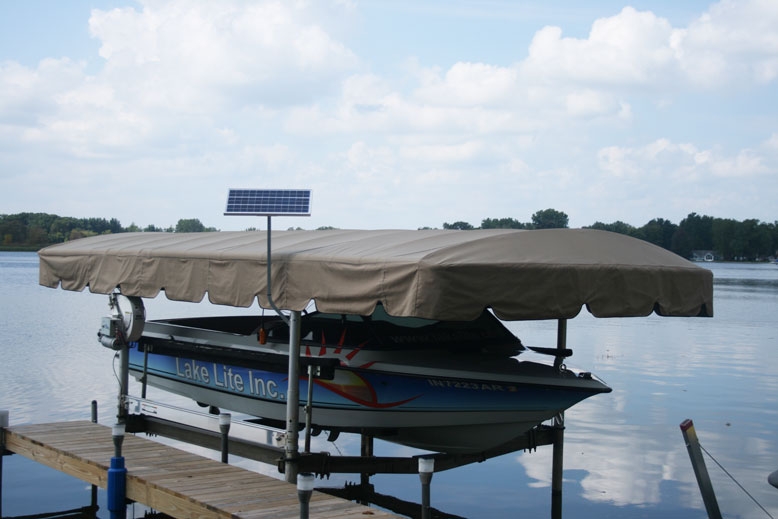 Includes arm, braces and worm straps, solar panels, controller
Welded aluminum square tubing bracket- strong
Four models/styles available- single 10W/12V, single 20W/12V, single 20W/24V,dual 10W/12V, and dual 10W/24V kit.
Click on images below to print data sheet showing complete kit components!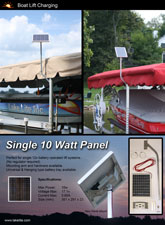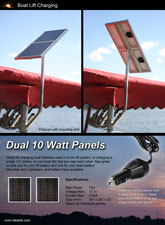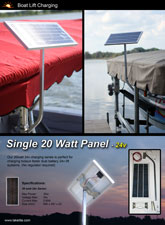 Charging Panel ,Mounting Arm, Charge Contollers- Go To Lake Lite All Products

Link- Lake Lite All Products Click Here


Do you need just a solar panel or a mounting arm? You can purchase just the individual components.
Solar Panels Only-
LL-SP-10w-12V- 10 Watt Solar Panel for charging 12V battery
LL-SP-20w-12V- 20 Watt Solar Panel for chaging 12V battery
LL-SP-20w-24V- 20 Watt Solar Panel for chaging 24V dual batteries
Mounting Arms Only-
LL-SPMA-10w-X1- Single 10 Watt Solar Panel mounting arm with straps

LL-SPMA-10w-X2- Dual 10 Watt Solar Panel mounging arm with straps

LL-SPMS-20w- Single 20 Watt Solar Panel mounting arm with straps
Charge Controllers-
LL-SCR-CM04- Phocos Standard 12V x 4 amp Charge Regulator
LL-SCR-CML05- Phocos Automatic 12V/24V x 5 amp Charger Regulator
LL-SCR-SG04- SunGuard 12V x 4.5 amp Charge Controler (water-proof)
Click Here to see- Solar Panels, Mounting Arms, Charge Controllers









Single and Dual Aluminum

Battery Trays





OWL
Lake Lite- Solar Boat Lift Charging Kit
Jan Watercraft Products, Since 2001
Thank you for visiting our site. If you have any questions go to our "CONTACT US" page and send us a e-mail or call!