SOLAR DOCK LIGHT PRODUCTS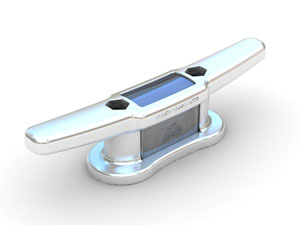 Aluminum- Solar Cleat Lite
$69.95 each
The 12" Solar Cleat Lite is quite possibly the coolest thing to hit the dock market yet! No more stubbed toes on those hard to see cleats at night! Not only does the cleat lite allow you see where to tie up after the sun sets, it provides great ambient pathway lighting.
The cleat lite is manufactured from heavy duty aluminum with a poly carbonate Lexan lens for endured longevity. Mounting is easy with recessed cavities for standard 1/2" hex bolts, or if needed use washer with 3/8" hex screws.
V5.0 Solar Dock Lights


New v5 Solar Dock Lites are now available in round, square, and rectangular style mounts. This latest verson from Lake Lite is three times brighter than the older model. The new design allows you to mount the LED in one common socket plus there are two brightness settings.


V5.0 Post Style Selector Chart