13354 Greenleaf Lane Grand Haven, Michigan 49417 616.822.7587
Piling Mounted Electrical Power Center Model #
SPC-21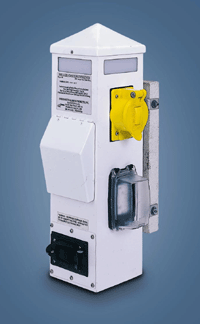 SPC-21-3T
Shown


Standard Features- Only available with Thermo Plastic Covers
Dimensions: 6" x 6" x 21"(Height)

Casing: Maximum three receptacles (6 poles)

Extruded aluminum 6063 with 1/8" wall thickness. No seams.

All stainless steel fasteners with nylon washers.

Each receptacle protected by a thermal magnetic circuit breaker

Marine grade electrical receptacles are available in 20 amp duplex GFI and 20, 30 & 50 amp twist-lock

Electrical distribution block - direct feed

Lenses for the lights are on three sides and are made of lexan

Thermo plastic receptacle covers

Brackets for either round or square pilings

Powder coated white inside and outside

15 year unconditional warranty on structural integrity of casing
General Specifications

All pedestals to have cone tops
All circuit breakers to be SQ D
All recepticales to be HUBBELL
All pedestals wiill have the ability for direct feed to accommodate up to 2/0 wire.
All sock pedestals to be power coated white.
Warranty

15 year unconditional on structural integrity of 100% alumium casing
2 year unconditional on construction and fabrication of casing and covers
2 year unconditional on HUBBELL receptacles- unliminited on manufacturing defects
One year on Square D breakers
Listed by qualified testing agency
Options
TV/telephone receptacle

PL-7 fluorescent light & photo cell

Natural aluminum finish and custom colors available

Electrical Meters

Options- Please contact JWP for options pricing by using our "Contact US"

Form show above.



Calcuate Pricing by Simple Addition:



1. Base Price-

$359.95



2. Choose Receptacle Type- Three Max. (6 pole)

Receptacles With Thermo Plastic Covers-

30 Amp- 125V Twistlock-

$75.00

c each
50 Amp- 125/250V Twistlock-

$175.00

each
20 Amp- 110V GFCI Duplex-

$94.00

each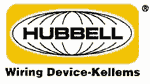 3. Choose Final Options To Complete Your Order-
Combination Cable TV and Telephone (two max)

$44.00

Florescent Light and Photocell-

$49.00

Electric Meter (single)-

$232.00

Must indicate flat surface mount or round piling mount- No Charge
Florida Residence please add 6% FL sales tax. Manufactured in FL by IDP.
Please contact JWP for any questions you may have by using our "Contact Us" form. Just click on the "Contact Us" box and fill out our easy form.
Jan Watercraft Products
1334 Greenleaf Lane
Grand Haven,MI 49417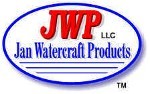 Piling Mounted Electrical Center
Jan Watercraft Products, Since 2001
Thank you for visiting our site. If you have any questions go to our "CONTACT US" page and send us a e-mail or call!