13354 Greenleaf Lane Grand Haven, Michigan 49417 616.822.7587
FRESH WATER SOLAR LED LIGHTS by Lake Lite
Select the mounting style that matches the
style of post that you have on your dock.
See Specific Part Numbers Below


Model V5.0 Specifications


New - Jumbo Size 8mm LED, 3X brighter than
previous verson 4.0
New - Constant brightness circuit even while battery voltage drops
New - Selection between two brightness settings.
New -Single design socket for all color LED's
New - Screw terminal socket for LED mounting.

View "Post Sizing Chart" below to see all available applications

Dimensions- Model V5.0




Mounting Information
INSTALLATION INSTRUCTIONS


More Features




Polymer encapsulated design and solid-state electronics make these lights extremely durable and vandal resistant.
Installs in minutes using three screws. No external wiring.
Turns on automatically at dusk and off at dawn.
Uses LED's (light emitting diodes) with approximately 100,000 hour lifespan. No bulbs to replace... ever.

Intelligent electronics ensure the batteries

will last up to five years without maintenance or servicing.

Suggested for fresh water use only


Three-year

warranty.

Light Source Constant

Intensity

Color

Changeable Super Bright LED's

Lumens (mcd)

Wave length

oooWhite

18,000 mcd

x=.31;y=.32

oooBlue

5,000 mcd

570 nm

oooGreen/Aqua

9,000 mcd

505 nm

oooRed

10,000 mcd

625 nm

oooOrange

4,000 mcd

610 nm

oooYellow

9,000 mcd

588 nm

LED Life Span (15-20 years)

approximately 75-100,000 hrs

Energy

Type

Power

Solar Panel Epoxy Encapsulated

polycrystalline

.50 watt

AA Rechargeable Battery

1.2v NiCd

1,000 mAh

Run Time (full charge)

19-22 hrs, Vary's with LED color

Construction

Type

Lens

Translucent 360° lenticular Diffuser

Reflector

Reflective Metallic Coating

Materials

ABS & UV resistant construction

Sealing

Silicon O-ring

Dimensions

Height (all fittings)

131mm

Width

89mm

Weight

0.9 lbs

Mounting

Diameter

Type

Post Size

1-5/8" OD

Galvanized/Aluminum

Post Size

1-7/8" OD

Galvanized/Aluminum

Post Size

2-3/8" OD

Galvanized/Aluminum

Post Size

3-1/4 ID

Brock Dock Covers

Post Size

3-1/4 ID

Galvanized/Aluminum

Flat Surface Mounting

-

Any

Post Size: (special order -must request adapter for this post when ordering via the "Contact US" page

2.00" OD Exact

Galvanized/Aluminum

Post Size:

2" x 2" Square

Galvanized/Aluminum

Post Size: (ShoreMaster Brand)

2" x 2" Five Side

Galvanized/Aluminum
2pk Solar Dock Lites v5- Mounting Options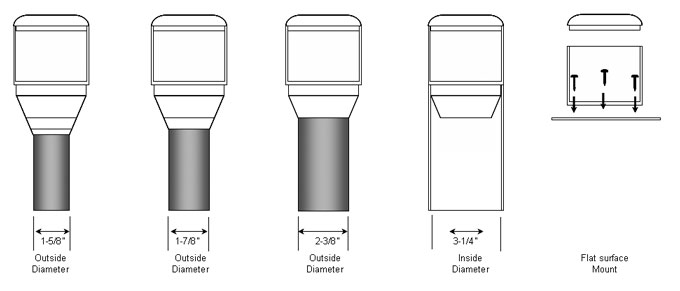 Round Model Fits Post sizes:

Square Model Fits Post Sizes:

2x2" Square Post
2x2"-Five Sided Square Post (Shore-Master)
Flat Surfaces

Rectangle Model Fits Post Sizes:

1-1/2"x2" Rectangle (Porta-Dock)
Flat Surfaces

The Style of base will be selected at the check out process. Click on the light image to begin checking out!



Note- Michigan and surrounding states, new 2.00" OD galvanized PIPE requires a new style adapter. Call us for details on this style of mount.




Jan Watercraft Products, Since 2001
Thank you for visiting our site. If you have any questions go to our "CONTACT US" page and send us a e-mail or call!