Niagara Deionized Water Supply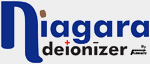 Maximizes battery life by removing dissolved solids that are present in tap water and can lead to shortened battery life. Economical, the mixed bed deionizer uses an ion exchange cartridge filled with non-toxic synthetic resins to remove impurities from you tap water before it enters the battery.
Red / Green water quality light lets you know when cartridges need to be replaced.
Mounting bracket has built in hose storage bracket
20 foot supply hose
Cartridges can be discarded when replacement is necessary
Filters up to 600 gallons of water before cartridge replacment.