What is Boat Treads?
Boat Treads Anti-Slip vinyl safety tape is a course-textured vinyl which provides good anti-slip properties in both wet and dry conditions. It is constructed from a non-mineral course-textured slip-resistant vinyl and comes with a water-resistant pressure-sensitive acrylic adhesive system that is ideal for wet conditions. It conforms easily to irregular surfaces and provides a comfortable feel to bare skin. Boat Treads tape is engineered from a unique type of vinyl that is pleasing to the eye, easy to clean and durable. The vinyl construction is completely sanitary. It limits the growth of odor causing germs and bacteria, resists staining, and won't fade or wash out.
How is it installed?
Surface Preparation
There are many commercial cleaners tha work well for most fiberglasss boat applications. For light cleaning (dust, fingerprints, and water spots) a regular glass cleaner seems to work best. Simply spray and wipe off. For heavier cleaning it is recommended to use a household cleaner like Fantastic, Formula 409, or Goo Gone. Just make sure you remove all grease or oil. These chemicals are the enemies of Boat Treads.
Tools Needed
A #2 pencil, large pair of sharp scissors, a long metal strait-edge, tility knife or razor blade (be careful!), and a piece of cardboard or scrap wood to use as a backing for cutting Boat Treads.
Installation
Before peeling off the backing paper, set into place and get the general idea of how it will fit. Lightly mark the outline with a pencil making sure to mark approximately 1/8" outside of where you will be cutting. Sharp scissors work well for rounding the corners and cutting long curves. For strait cuts, lay Boat Treads on a section of cardboard and use a strait-edge and utility knife. It's better to make your first cut bigger than you need it to be (you can always trim more off). Once cut it to size, it's time to apply Boat Treads. Peel back a short section of backing paper and stick it to the surface. Slowly peel back the remaining paper as you work from one end to the other. Go slow and apply pressure evenly to minimize any air bubbles. If you get any air bubbles, puncture them with a strait pin (or carefully with a razor blade) and press the air out. To insure a better bond, pass a warm hair dryer down the length of Boat Treads immediately before installing. This will make the contact adhesive more tacky and ensure a stronger bond. Boat Treads is ready to use immediately !
Removal
Simply pry up one corner and peel off. Any remaining residue can be cleaned up with Goo Gone.
PLEASE NOTE Do not apply if temperature is below 50 degrees Fahrenheit.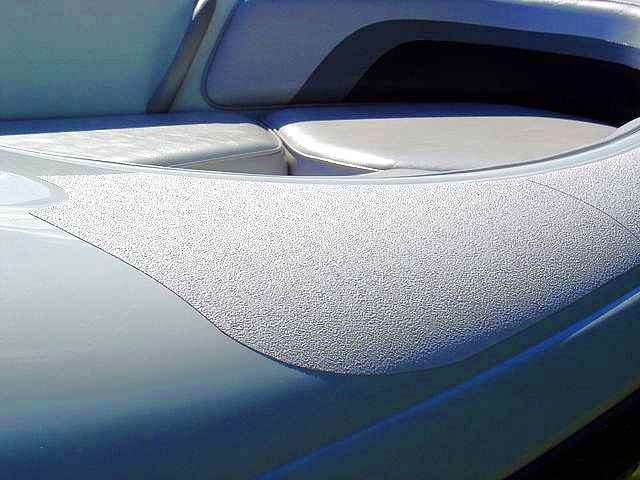 Boat Treads is easily installed in minutes to any smooth, clean, dry, oil-free surface including sealed wood, metal, fiberglass, and sealed concrete. Boat Treads can be easily cut using a sharp pair of scissors. Measure the area you wish to apply Boat Treads. Simply peel off backing paper and press into place- its ready immediately. For best results cut circular corners and avoid sharp corners. Use a circle template or anything that is round to mark the Boat Treads on the peel off adhesive backed side.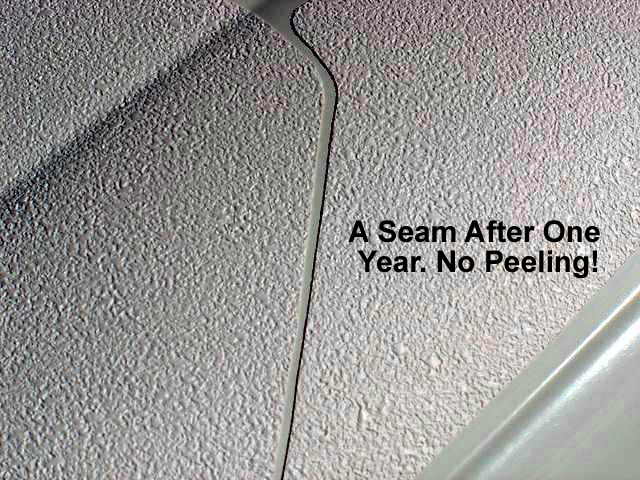 Advantages:
Safety- coarse textured slip resistant!
Easy to install
Eas y to clean
Lasts for years and years
Lowest cost anti-skit material available on the market vs. competitive products
Many other uses- bath, showers, Entry and stair steps.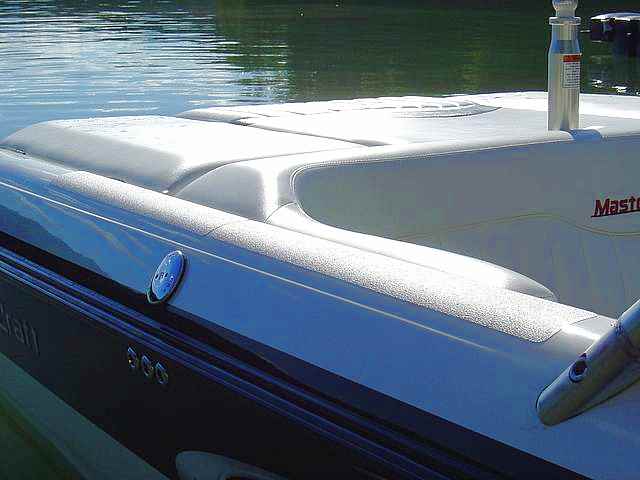 Options
Color- available by special order in black
Width- Boat Treads can be ordered up to 48" wide. Please use the "Contact Us" page to enquire about special sizses
Available in several convient sizes to meet your requirements
Available Pre-Cut Sizes, see pre-packaged options below
PKG 2

consists of the following 2- 6" x 24"

PKG 3

consists of the following: 2- 6" x 24" and 1- 12" x 12"

PKG 4

consists of the following: 2- 6" x 36"

PKG 5

consists of the following: 2- 6" X 36" and 12" x 12"

PKG 6

consists of the following: 2- 6" x 48"

PKG 7

consists of the following: 2- 6" x 48 and 1- 6" x 18"

Custom sizes available

-

consult JWP for your requirments
Shipping- Orders over $50 qualify for free shipping. Michigan customers must pay 6% Michigan sales tax.
Customers that are interested in "Boat Treads" are also interested in "Dock-N-Safe"


CUSTOMERS OF BOAT TREADS PLEASE NOTE
No warranties are expressed or implied. The seller of Boat Treads' (L.A. Marketing L.L.C) only obligation shall be to replace such quantity of the product proved to be defective.
Seller shall not be liable for any injury, loss, or damage direct or consequential, arising out of the use or the inability to use the product. Before installing Boat Treads, purchaser shall determine the suitability of the product for its intended use and assumes all risk and liability whatsoever in connection therewith.
If you are unsure about any aspect of installing Boat Treads, or its suitability, please stop and return the product for a full refund!