13354 Greenleaf Lane Grand Haven, Michigan 49417 616.822.7587
Battery Life Saver
and Battery Solver Package
Restores Battery Life- now also for Fork Lift Applications!


View Golf Cart Application Video
What is a Battery Life Saver?


An electronic device that keeps new batteries in maximum operating condition, brings dead batteries back to life, restores functioning batteries to new condition, and keeps batteries from losing capacity and life due to the main cause of battery failure, the build up of lead sulfates. There are different model for different types of batteries.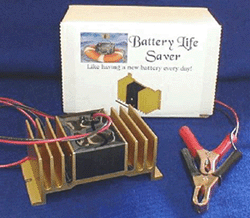 What is the Battery Life Saver "BATTERY SOLVER PACKAGE"?
A Complete system consisting of a timer, charger, and Battery Life Saver to allow you to keep your batteries fully charged during long periods of storage. Installing this package will give you all the benefits of the BLS and the peace of mind that your batteries are fully charged. The "Battery Solver Package is available in 24V, 36V, 48V, and 72V kits.
Purchase Battery Solver Package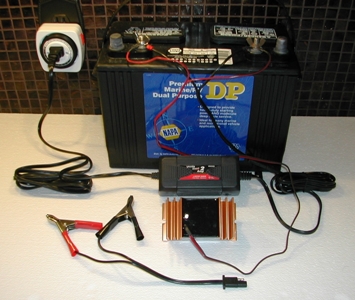 Learn More-
Why is the Battery Life Saver electronic device needed?

75% to 80% of lead acid batteries fail prematurely because of formation of lead sulfates on the plates inside the battery. These crystals cause batteries to become unusable at approximately one-third of their natural life. The "Battery Life Saver" electronically device electronically dissolves the lead sulfate crystals.

How Does It Work?-

Using breakthrough square wave technology, the "Battery Life Saver" electronic devise sends a frequency signal to each crystal of lead sulfate causing it to dissolve into lead and acid. This restores the battery to its original condition and allows the electrical charg to be drawn from the battery.

Benefits of Using The Battery Life Saver Electronic Device-

It makes old batteries as good as new. It keeps new batteries like new, saving time and money. With the "Battery Life Saver" more power is available from your battery and you will need less power to charge it. By reducing the number of batteries that get thrown away the "BLS" protects the environment. To see the different models click on link below.
The Battery Life Saver electronic device can be used in several different ways:
To restore a dead or barely usable battery,

connect the electronic device to the battery, along with your battery charger. A -10 amp charger works best.

Battery Life Saver

electronic device is powered by the battery. Allowing the battery to charge until the specific gravity reaches between 1.25 and 1.30. This would be equivalent to a new battery. If you don't have a hydrometer to measure specific gravity, you can check the voltage while the battery charger is on. if the voltage is over 15 volts, the battery is fully rejuvenated. This process can take several days to as much as many weeks for a badly sulfated battery.

To accelerate the de-sulfating process

, turn the battery charger off in the battery voltage is at least 11.5 volts. Leave the Battery Life Saver electronic device connected and allow it to run by itself for 12 hours. Then turn the battery charger on and allow it to run for 12 hours or until fully charged (in some cases it can take as few as 6-10 hours) with the battery charger on. Do this alternately until the specific gravity is within the range for a fully charged battery , 1.25 to 1.30.

To Maintain Working Batteries-

install the Battery Life Saver electronic device on each battery or on a bank of batteries. It rejuvenates the batteries while it is in service. This causes more power to be available from the battery and causes less power to be needed to charge the battery. This is the best way to extend the life of your bateries. It's like having a brand new battery every time you use it.

To Keep New Batteries in Like New Condition-

The all new "N" series BLS is specifically designed to keep

NEW GOLF CART

batteries in like new condition. This new product will work exactly like our current products but is specifically designed to maintain

NEW GOLF CART

batteries and has a automatic shut off feature. This all new feature will shut off the BLS when your batteries become discharged to 80% of their full charge. This new technology is currently available for 36V and 48V golf carts only. There is no ON/OFF switch required for this product.
Links-
Battery Life Saver Catalog Page
Purchase Battery Life Saver and Battery Solver Kits
Link- Testing Batteries to See If They Can Be Restored
Restoring a 12V or 6V Battery to Full Charge
Extend the Life of your Solar Battery Bank
Battery Life Saver- Testimonials
BLS- D
oes it really work? (my independent test)

Jan Watercraft Products
1334 Greenleaf Lane
Grand Haven,MI 49417


Battery Life Saver/Battery Solver Pkg.
Jan Watercraft Products, Since 2001
Thank you for visiting our site. If you have any questions go to our "CONTACT US" page and send us a e-mail or call!